You may be able to score an easy green win for your health and the landfill just by altering your lunch routine, whether at work or on-the-go. Commuting to an office building everyday, or often out and about? If you do not lunch often at home, between that long to-do list, meetings or any other activities keeping you busy, lunch is probably taken in a fast and furious way, maybe even without actually taking a break…Whether you step outside to grab something to eat, go to the building cafeteria, stop by a food court, or bring your own lunch, there may be several opportunities to green up your routine, or better said, the elements of your routine, thus reducing  your exposure to toxic chemicals. The impact of such changes could be substantial: since you eat everyday, any positive effect will add up over time, making it definitely worth considering a few re-arrangements.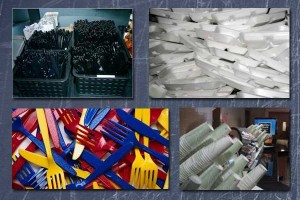 If you are the lunch takeout or cafeteria type, you likely eat your meal from a plastic or plastic lined cardboard plate or box, you likely use plastic utensils, and you may buy a plastic bottle of water, or other bottled beverage. Maybe even carrying your whole order on a disposable cardboard tray. If you are the Bring Your Own Food type, you may use a plastic container to transport (and warm up) your meal, and own a plastic beverage container to hold and refill your drink. Whether you buy on site or bring your lunch along, another thing you may do every day several times a day wherever you are, is using disposable plastic or paper cups to drink from the office water fountain or the one from the Doctor's office, or the one at the store…
If all this sounds familiar and daily occurrences, here are some ideas to use (and re-use) health-proof items and reduce both your daily consumption and exposure to plastic and other possibly dangerous material, so that eating your lunch becomes more of a green moment in your day:
Pack your lunch in a glass or tifflin stainless steel container
Use stainless steel or wooden (usually bamboo) utensils
Bring, drink and refill your stainless steel or glass water bottle; you may find yourself drinking more (free) water  and less tempted by sugary drinks
As for your other occasions to eat and drink during the day, consider keeping these items nearby, whether in a drawer of your desk, or in your car:
A glass mug and a stainless steel spoon for all your hot beverages needs
Two cloth napkins to clean up messes, hold hot meals or drink, blow your nose, dry your hands, whatever it is that  you typically use tissues or paper towel for… (use the spare one when the other is going home with you to get washed)
A spare set of stainless steel fork and knife (just in case you forget to pack yours with your lunch)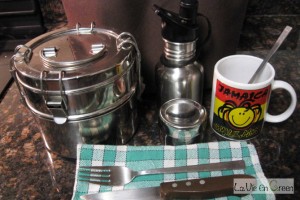 Having your lunch using safe, re-usable and easy to care for items will help you stay away from hot meals and hot drinks served in plastic, plastic lined carton or polystyrene containers and the associated risk of toxic chemicals leaching into what you are about to ingest. It'll make no difference to the restaurant serving you whether they do it in their disposable or your own container, but it will to you. And if you pack your home cooked from home, chances are any meal you eat will be healthier than what is for sale outside.
A costly move? More often than not, no. Since most of us often own several versions of one same item, in the kitchen this may translate into owning plastic containers, but also glass and stainless steel containers. As for mugs and utensils, that is a perfect use for those gifts, that do not quite fit with your set, or those commercially branded cups (university, sport team, birthday, Christmas…) or airline branded forks, knives and spoons that take up room in your home. And you still have your own everyday sets intact. As for your napkins, any extra dish cloth or rag will do. It is not for display anyway.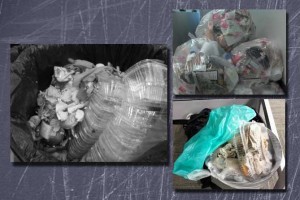 I have always been appalled at the number and size of the daily garbage bags in the office kitchen or shopping malls, filled with disposable cups, utensils, boxes, napkins, condiment samples, sometimes brand new or barely used….
So much waste generated from toxic to you and polluting to the earth items that could easily be eliminated or replaced with safer, durable, reusable options. At least a portion of them. Plus you may be able to inspire some of your friends and colleagues. A simple but cool, personalized or just different glass mug could be all it takes to start a conversation at the coffee machine or in your car!
I never quite understood why at most places of work or activities, companies or associations do not fully (or at all) take advantage of this opportunity and invest in some simple but branded glass mugs, distribute to employees or participants, with each one caring for his or her own. It would pay back fast, provide a support for free advertising and provide grounds for a green, sustainable item they can check on their corporate responsibility achievement plan!
Most of the time though, what you get is a styrofoam (or friends) cup. So, really, it becomes your opportunity to protect both your health and your environment, and that is probably the best way to make sure it gets done properly anyway. It is only a matter of getting into the habit.
Do you own a re-usable cup, food container, cloth napkin and utensils that you could use for lunch and keep by your side when you step out of home? What is your current outside of home drinking or eating routine? Are you more of a re-user or do you rely a lot on disposable items you can buy or find outside of home?Would you consider some of those above easy changes to build a personal, customized greener lunch and snack daily routine for you and your family?
Credits photos: First montage, clockwise from top left: bad designs.com, parkhowell.com, kitchendaily.com, shfwire.com. Second montage, clockwise from middle left: student.sluh.org, suburban reject.com, ibtimes.com.