Did you know that, according to the Natural Resources Defense Council (NRDC), we triple our waste during year-end celebration season? And did you know that over the holidays, 1 million tons of trash (think food waste, gift wrapping and packaging) go into U.S. landfills each week? With these facts out, how about some green food for thoughts on how to make that time of  year just as joyful as waste-free, or close enough?
Aside from rethinking how to make a greener gift, there are ways to make the whole season more sustainable too. And it is actually easy to reduce if not completely get rid of the trash generated as collateral damage of the holidays. Here are a few eco-friendly ideas: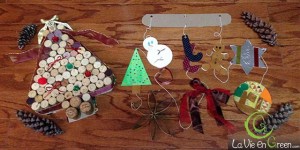 1- Make your own, get second-hand holiday decorations and reuse all over and over! Try one, a few or all of the following, and you'll be set with your decorations for good: Post a "Want" add on freecycle or visit thrift stores to get second hand ornaments. You'll be surprised to score like-new items… After all, how used can these ever be given their tiny lifespan? If you have children, put to good use all the holiday decorations they make at school year after year. They'll get the exposure they deserve (or so think your proud kids anyway) and will make for great unique and personal memories. While on the DIY topic, you too can make your own. Find ideas online and try and reuse existing material, recyclable or not… It's not like there are new Christmas decoration fashion trends every year after all! And if you ever bought any new decorations yourself, keep and re-use them too.
2- Reuse existing wrapping paper and gift bags- Simply gift wrap using second-hand wrapping paper. The rule of thumb is that the piece of paper should be bigger than the size of the gift , so that  you can cut out the folded ends. All you need to do is store your salvaged wrappings rolled around a tube or lay them flat. Some patterns are so pretty, it'd be a shame to discard them after one use. Do the same with gift bags if they're in good condition. And if not, keep the big ones so you can cut out the handles, bottom and dented parts to repurpose them as wrapping paper for smaller gifts.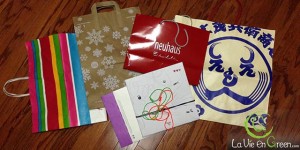 3- Reuse existing material as wrapping paper- Or how to redefine gift wrapping… Instead of discarding them, put these old maps, pretty glossy magazines, newspaper comic strips, old calendars, yellow pages books and such to good original use while decluttering at the same time. In the same vein, have you noticed how some retailers dial up the luxury or festive factor on their paper shopping bags for the end of year season? Use these as gift bags, no need to further wrapping up anything. Now whether we're talking department or grocery stores, and if you're shopping for yourself, it is best to bring your own reusable bags, but, if you end up getting some of these pretty bags anyway, think about repurposing them as wrapping paper for your other gifts. And if they're too dented for this, simply shred and reuse them as filling for gift bags (exit, silk paper!) or as protective filler for something (gift or not) you need to ship out. Forget glue or tape, repurpose ribbons and make your own tags, both from these same nice shopping bags. There, your gift packing is all done.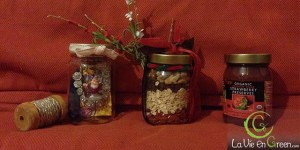 4- Turn recyclable (or not) items into smart reusable packaging- If you're into DIY green gifts and you create, say, an original edible combo of healthy cereal, grains, seeds and dry fruit, or any other edible treat, package it in a mason or recycled glass jar. Little jam glass jars are great to recycle for this purpose and are "free" since you bought them for their content. Note that the gift does not have to be edible to be packaged in a jar. This works with a piece of jewelry, make-up items, small electronics, gift cards… Jazz it up with some ribbon or twine and a card inside. Basically anything pretty will be enhanced by a glass package. Not only you prevent new trash creation, but you reuse an existing container, which totally beats recycling said container. The more you reuse an item before you recycle it, the more you delay trash creation and spare the landfills from additional degradable (or not) clutter.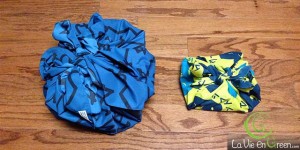 5- Make the packaging part of the gift- Use no wrapping at all and offer homemade edible treats on plates or bowls that are part of the gift. And for non-edible gifts, have fun with furoshiki gift wrapping: use a piece of fabric or a scarf to wrap them up. A scarf makes for an additional gift and you can reuse the piece of fabric yourself, or pass it on when you make your next gift. In the same spirit, check out this video on how to make a fabric bag out of an old tee shirt… No sewing needed:  http://www.leethal.net/zine/?p=1344
Where there's a will, there's a way! And there are so many eco-friendly, sustainable ways to put a smile on someone's face without adding an unwanted burden on the environment… And the more personal your gift to that special person is, the more it'll be appreciated because of the time you put into it. And that works both for the gift and its wrapping.
Are you one to let your imagination run free and get all creative when you think about what to offer? Any green tips to share with us all?