On Earth Day weekend, New York City hosted the second edition of its NYC Green Festival. Packed with over 270 green exhibitors, over 100 eco-conscious expert speakers, demos and DIY workshops, and lots of green products to discover and try, the purpose was to gather the community of Earth-conscious minds (whether you are just curious, beginners or advanced levels) around a celebration of pro-Earth solutions. From looking to source locally produced foods and goods, to finding a green job, learning how to detoxify or clean our home, or simply getting the last needed push of inspiration to give a new, greener, safer twist to our life, this event was all about us, our family, our community, and our planet.
We went to the first New York City edition last year as a family, and happily came back this year. Green Girl was only 3 last year, but she still remembers how she had repurposed toilet paper rolls and scrap paper to make a vase and two flowers. Also fresh in her mind, all the organic food sampling and the green cars displayed inside (her first time seating in the driver's seat and seeing a huge car plug, so that was big). Green Baby was barely 1 year old and spent the whole time sleeping against my chest in her sling. But this year, she joyfully tagged along and wanted to see and do everything.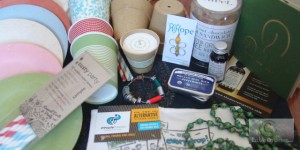 I found the Green Festival to be a great, fun event for families, couples and solo visitors alike. And it also fits any level of green living involvement as there truly is something for everyone. Whether you want to learn more about ways to green up your business, enjoy handmade creations, discover safer beauty products, find out fair trade sourced quality foods, try organic cuisine, listen to knowledgeable presenters on complex green topics, or just browse through beautiful, unique pieces of art and other giftable items, chances are, you'll learn something and may leave with some thing(s) in your hands.
What struck me as another sign of the green richness brought into one place by the Green Festival, was the variety of vendors. In no particular order and in a non-exhaustive way, I found, all mingling together:
I met and spoke to most of the companies or associations mentioned above. The video below is a snapshot of a few of these conversations, showcasing the diversity of vendors, and focusing on the green thing or idea they have to offer us. This is the first, introductory video among a series of others to be added soon, that will each be centered around one of these passionate greenies. They'll tell us about their story, their offering and their green contribution.
[youtube id="GtXHwjTCV0Q" width="600″ height="350″]
A last mention and thank you to Green America and Global Exchange, the two associations who are at the heart of the Green Festival Project. Check out for yourself their inspiring missions.